Discover how to leverage digital disruption to become more efficient and more competitive in the HR & Recruiting industry. We give you key insights, drawn from the latest research, to understand the best strategy for preparing your business for digital disruption. Click below to access your free Guide!
Get My Free Guide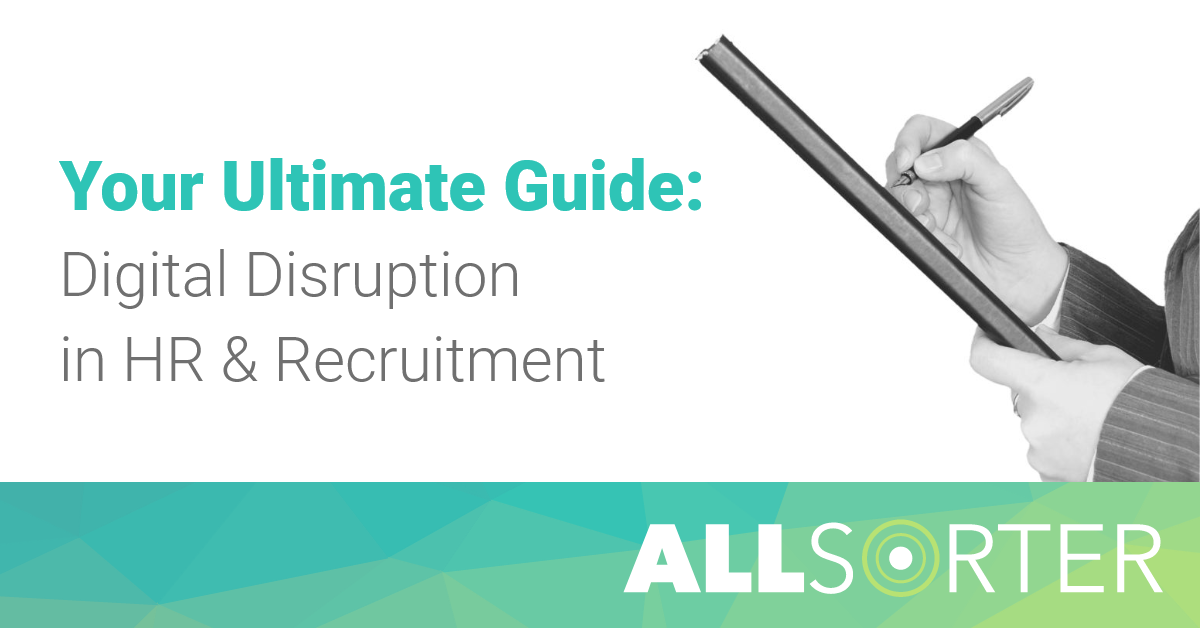 Here's a sneak peak of what's inside:
Big Data analytics adoption in HR departments is at only 9%.1
The adoption of digital innovation in HR is lagging in comparison to other industries and is still weighed down with manual time-consuming administrative tasks. HR industry leaders understand that adapting their business model is essential. 
81% of HR departments plan to allocate funding to digital transformation projects over the next 2-3 years.2
The benefits that digital transformation can bring to the HR and Staffing industries are immense. Digitization will move HR from a primarily administrative function to a key strategic element of organisations.
ROI is found to be 50% higher when business digitize their processes before their competitors.3
How can YOU easily and quickly digitize your processes? Find out in your free Guide to Digital Disruption in HR!
Get my Free Guide
Allsorter.com is a data science company developing digital disruptive platforms for the HR & Staffing Industries. Our automated AI-engineered CV formatting platform increases efficiency and removes friction from the recruiting process. Our technology is best-in-class, recognised by prestigious development and funding bodies at both a national and international level. We are a member of the European AI Alliance and EU Digital Skills & Jobs coalition and were awarded the esteemed Horizon 2020 funding from the European Investment Bank.
Sources
1Resource Solutions (2018) "Recruitment Outsourcing Insights Report." Available at: https://www.resourcesolutions.com/latest-news/rpo-recruitment-outsourcing-insights-2018.html
2Deloitte (2019) "Trends in Human Capital". Available at: https://www2.deloitte.com/es/es/pages/humancapital/articles/tendencias-capital-humano.html
3The Boston Consulting Group (2018) "Preemptive Transformation: Fix it before it breaks." Available at: https://www.bcg.com/publications/2018/preemptive-transformation-fix-it-before-it-breaks.aspx
Topics: Recruitment Process, AI in recruiting, RPA in recruitment, Recruitment Technology, Allsorter.com